Baked Italian Cheese Sandwich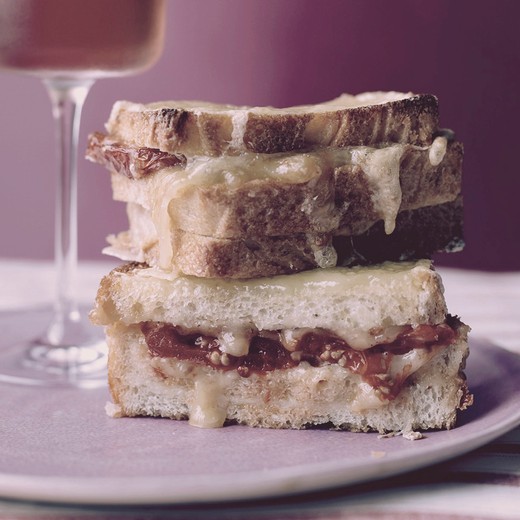 Recipe Date:
March 14, 2022
Measurements:
Imperial (US)
A great rose is all about balance and tension between fruit and savory and acidity and richness. We think that our 2021 Esperance Rose is perfectly balanced and crushable. In seeking to pair our 2021 Esperance Rose with the perfect dish, we chose this fun, rich, gooey, baked sandwich that has enough acidity from the freshly roasted tomatoes to balance out the fatty cheeses and crispy bread. The oven roasted tomatoes add to the overall preparation time, but do not be scared to try this very simple recipe as it you will truly be rewarded with a yummy food and wine pairing.
Ingredients
plum tomatoes, cut in half lengthwise
1/4 cup EVOO (extra virgin olive oil)
1 tsp fresh thyme leaves
loaf soft crush French Bread, Brioche Loaf, or pullman loaf - cut into 12 slices
1/2 lb sliced provolone cheese
1/2 lb Fontina cheese, coarsely chopped (2 3/4 cups)
1/4 cup Parmigiano-Reggiano freshly grated
salt and pepper to taste
Directions
For the tomatoes:
Preheat oven to 325 F
On a large rimmed baking sheet, toss halved tomatoes with 2 tbsp EVOO and season with salt and pepper
Bake the tomatoes cut side up for 90 minutes, until soft and starting to brown
Sprinkle with thyme leaves and bake for 30 more minutes, until they are tender and slightly shriveled
Set aside and let cool
For the 4 sandwiches:
Increase oven temp to 375 F
Brush 4 slices with 2 tbsp EVOO - on just one side
Arrange 4 slices oil side down on a large rimmed baking sheet
Top with sliced provolone and then the unbrushed bread slices
Cover with baked tomatoes, then 2 cups Fontina, then remaining 4 slices of oiled bread (oil side up)
Press gently on the sandwiches to flatten a bit
Bake for approx. 15 minutes until bread is toasted and cheese is melted.
Remove from oven
Now, preheat broiler
Toss remaining Fontina with the Parmigiano and sprinkle liberally on sandwiches
Broil close to the heat for about a minute, until cheese is melted and browning
Serve with a simple arugula salad
*Best enjoyed with our 2021 Espérance Rose
More Rose food and wine pairings inspiration from Decater Magazine...
STAY CONNECTED
Keep up to date on the latest wine releases, events, and promotions.