Black Pepper Crusted Duck Breast with Cherry Reduction Sauce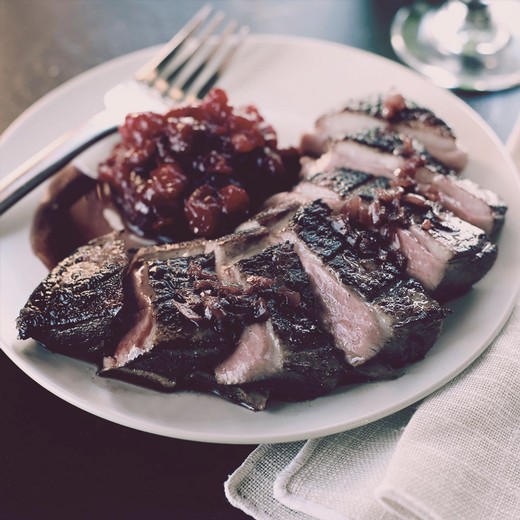 Recipe Date:
January 22, 2021
Measurements:
Imperial (US)
Ingredients
2 5 - 6 oz Duck Breasts
2 tbsps Coarsely Ground Black Pepper
2 tsps Olive Oil
2 Shallots
1 cup Black Cherry Juice
1 cup Halved Pitted Cherries, dark and sweet, such as Bing Cherries
Directions
For Sauce:
Sauté diced shallots in 1 tbsp olive oil until soft and translucent, about 3 minutes.
Add cherry juice and bring to boil. Reduce heat to low and simmer for 4-5 minutes, stirring occasionally. Reduce by 1/2.
Add the halved cherries and simmer one additional minute. Set aside.
For Duck:
Preheat oven to 500° F.
Using a sharp paring knife, score the duck breasts in a diamond shaped pattern. Make sure not to cut all the way through. Drizzle one tsp olive oil over duck and rub with black pepper.
Place the duck skin side down, in a room temperature cast iron pan. Bake for ten minutes.
Remove from oven and let duck rest for 5 minutes.
Return duck to oven and heat for one more minute.
Slice at an angle, starting from short side.
Plate duck and spoon cheery reduction over the top.
*Best enjoyed with Étranger by Andrew Murray Vineyards.
STAY CONNECTED
Keep up to date on the latest wine releases, events, and promotions.