Creamy Spinach and Artichoke Salmon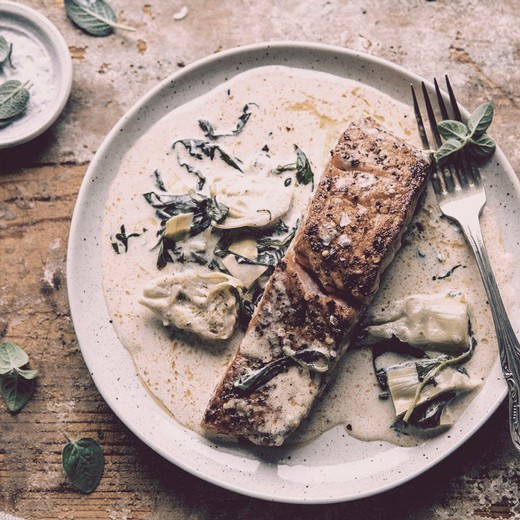 Recipe Date:
January 18, 2021
Measurements:
Imperial (US)
Ingredients
2 Salmon Filets
Salt & Black Pepper, to taste
1/4 tsp Smoked Paprika
1 tbsp Extra Virgin Olive Oil
2 tbsps Unsalted Butter
1 Shallot, thinly sliced
2 Cloves Garlic, thinly sliced
1 tbsp Fresh Sage, chopped
1/4 tsp Crushed Red Pepper Flakes
2/3 cup Heavy Cream
1 oz Cream Cheese
1/4 cup Parmesan Cheese, grated
2 cups Fresh Baby Spinach, coarsely chopped
6 ozs Marinated Artichokes, roughly chopped
1 Juice from small Meyer Lemon
Directions
Preheat the oven to 350 degrees. Rub the salmon with paprika, salt and pepper.
Sear the salmon before baking. Heat the olive oil in a large skillet over high heat. Add the salmon and cook for 2-3 minutes, until the salmon is seared on 1 side. Remove from the skillet. If using skin-on salmon, sear on the skin side.
To the same (oven-safe) skillet, add the butter, shallots, and garlic. Cook until the garlic is fragrant (approximately 2 minutes). Add the sage and continue cooking for another 2-3 minutes, until the butter is browned and the garlic is golden and carmelized. Add the crushed red pepper flakes, heavy cream and cream cheese. Season the sauce with salt and pepper to taste. Bring to a simmer over medium heat, stirring occasionally until smooth and creamy. Add the parmesean, spinach and artichokes, and cook until the spinach is wilted (3-5 minutes). Stir in the lemon juice. Remove from heat.
Slide the salmon into the sauce. Transfer to the oven and bake 10-15 minutes or until salmon is cooked through.
To serve plate each piece of salmon, then spoon the sauce over top. Serve with flaky sea salt.
*For ultimate enjoyment, pair with Andrew Murray Vineyards 2019 Enchanté.
STAY CONNECTED
Keep up to date on the latest wine releases, events, and promotions.