Herb Crusted Roast Pork Loin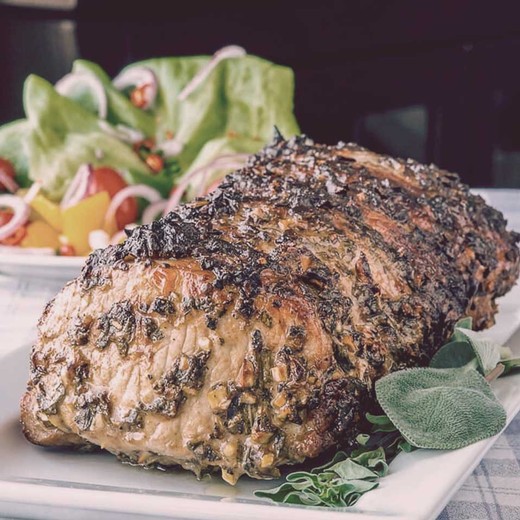 Recipe Date:
April 18, 2021
Measurements:
Imperial (US)
Ingredients
1 3 lb. boneless pork loin
2 tsps chopped fresh thyme
2 tsps dried oregano
3 cloves minced garlic
1 tsp coarsely ground black pepper
1 tsp kosher salt (sea salt)
1 tbsp Worcestershire sauce
4 tbsps coarse grain Dijon mustard
Directions
In order to fully enjoy this meal, you first need to open up a properly chilled bottle of our 2020 Etancher and pour yourself a glass to enjoy while prepping and cooking this roast. The tart and fresh fruit flavors of this light and delicious wine should help inspire your inner Julia Child. Now, you are ready to start cooking...
Pre-heat oven to 350 degrees F.
Then, mix up all of the ingredients for the Herb and Mustard Crust into a paste.
Now, rub the paste over the entire surface of the pork loin roast, massaging it in to any nooks and crannies.
Place the roast on a rack in a large roasting pan and cook uncovered at 350 degrees F for about 20 minutes per pound or until internal temperature of the roast reaches 160 degrees F on a meat thermometer.
Allow roast to rest for 15 minutes after it comes out of the oven before carving and serving with your favorite side dishes...like roast potatos, french fries, grilled veggies, rice pilaf, etc.
STAY CONNECTED
Keep up to date on the latest wine releases, events, and promotions.