Miso Glazed Salmon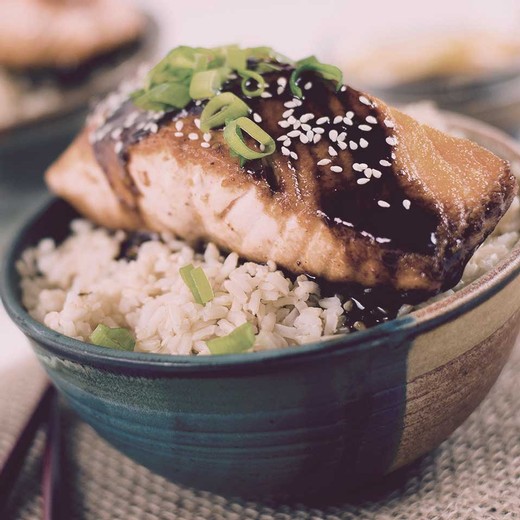 Measurements:
Imperial (US)
Ingredients
2 6 oz Salmon Filets (skin on)
4 tbsps low sodium soy sauce
2 tbsps honey
1 tbsp fresh lemon juice
1 tbsp olive oil
1 tbsp white miso paste
1 tbsp stone ground mustard
sesame seeds and sliced green onions for garnish
Directions
In order to fully enjoy this meal, you first need to open up a properly chilled bottle of our 2021 Étancher and pour yourself a glass to enjoy while prepping and cooking this very delicious, simple and relatively healthy meal...
Preheat oven to 400 F
For the marinade: in a small bowl, whisk together the soy sauce, lemon juice, honey, mustard and miso paste and set aside.
In an oven-safe skillet, heat oil over high heat until hot.
Add the salmon, skin-side up, and sear for 2-3 minutes, then flip over, pour the sauce over the pan and place into the oven.
Roast in the oven for 4-6 minutes, or until cooked through. If the sauce thickens too much, you can loosen with low sodium chicken broth or water.
Carefully remove the salmon from the oven and transfer to plates.
Pour glaze over salmon.
Garnish with sesame seeds and sliced green onions.
Serve with some pan seered veggies or on top of some fragrant rice.
*Best enjoyed with our 2021 Étancher.
STAY CONNECTED
Keep up to date on the latest wine releases, events, and promotions.