Roast Leg of Lamb with Root Vegetables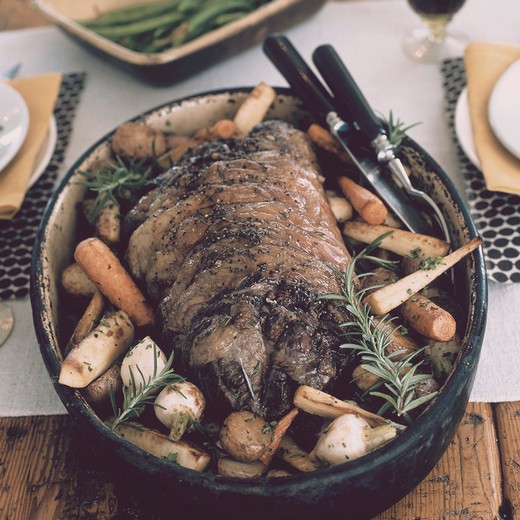 Recipe Date:
January 1, 2021
Measurements:
Imperial (US)
Culinary arts being my first and foremost passion, naturally my intrigue and exploration revolves around food. Continually curious about food and wine pairings, I will never forget learning from the Professor of a Wine 101 class I took while studying abroad in France, that you can never go wrong with a nice bottle of Châteauneuf-du-Pape and a decadent lamb dish. And how! As I think about the perfect food and wine pairing for this cold winter season, I am reminded of my mom's roast leg of lamb that graces our Holiday table every year. While the winter season may look a little different this year, there is nothing more comforting than a nice roast lamb paired with a bottle of Andrew Murray Grenache. - Beka Breneman (E11even Tasting Room Manager)
Ingredients
1 Leg of Lamb
8 Cloves of Garlic
4 tbsps Olive Oil, divided
1 tbsp Herbs de Provence
1 White Onion
2 Carrots
2 Parsnips
1 Fennel Bulb
Salt & Pepper to taste
Directions
Preheat oven to 450° F
Remove leg of lamb and let come to room temperature, about 1 hour (this helps the meat cook evenly)
While lamb is resting, peel and slice onion into quarters. Peel and chop carrots and parsnips into 2 inch pieces. Toss with 2 tbsps of olive oil, salt and pepper
With a pairing knife, cut 1 inch deep slits in lamb and stuff with whole cloves of garlic
Drizzle lamb with remaining 2 tbsps of oil and rub with salt, pepper and Herbs de Provence
Cover bottom of roasting pan with vegetables and place leg of lamb on top
Bake for 1- 1 ¼ hours until a meat thermometer reaches 130-135° F
Remove from oven, cover with foil and let sit for ten minutes to absorb the juices
Slice and serve over your choice of rice, quinoa or mashed potatoes
*For ultimate enjoyment, pair with Andrew Murray's 2018 Grenache
STAY CONNECTED
Keep up to date on the latest wine releases, events, and promotions.