April 20, 2021 | Wine Education, Winemaking | Andrew Murray Vineyards
Étancher: Hard to say, fun to drink
I am super stoked to release this brand-new wine – the 2020 Étancher is literally the perfect wine for right now. Here is a bit of the back story about how it came to be and how it was crafted and why you should snap some up before it is all gone.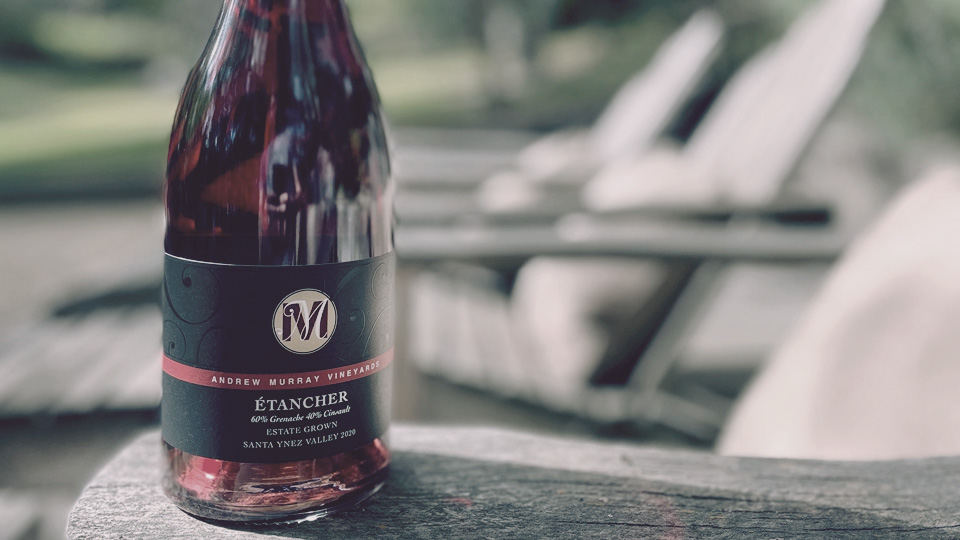 The Back Story
Andrew Murray Vineyards crafts relatively few white wines and very few cases of those whites. It is not because I do not love white wine, but rather because our terroir is better suited to reds. We actually bottle more of our Rosé (made from red grapes) each year than the sum of all of our whites. So, I am always seeking opportunities to show off our amazing terroir in a new and fun way, while pushing the boundaries of crafting lighter wines for warmer days. Our sister (alter-ego) brand E11even Wines has been experimenting and perfecting a lighter red named She'll Be Right over the past couple of years, so the idea was to take the successful R & D of Carbonic Winemaking over to the AMV side of things. In 2020 we selected a couple sections of the vineyard that were struggling due to the heat spikes that we endured – one section of our Grenache and another of our Cinsault – and reserved them for this new project. The results exceeded our expectations. We had the perfect wine, but we did not have a name yet…
Carbonic Winemaking?
The rather hipster/laissez-faire style of winemaking, Carbonic Maceration, has literally been around for generations. But somehow everything old is new again (like when my younger children asked me if I had ever heard of a cassette tape or these amazing shoes from a company called Vans). The concept of a newer generation picking up trends left behind by an older generation is nothing new, but it still fascinates me. Often times "old-fashioned" ways go out of style for a reason, usually centered around the notion that the style was increasingly becoming un-loved or even vilified. Carbonic winemaking is certainly a buzz word today, but most wines employing the concepts are actually Semi-Carbonic in truth. The most famous and iconic Carbonic wines are Beaujolais Nouveau, and sadly they are also the most maligned of all the Carbonic wines due to their early release, crunchy texture, and overt fruitiness. Our aim with our new Semi-Carbonic wine was to take the best of the BeauJo and then update and modernize it for our own taste.
2020 Étancher – what's in a name?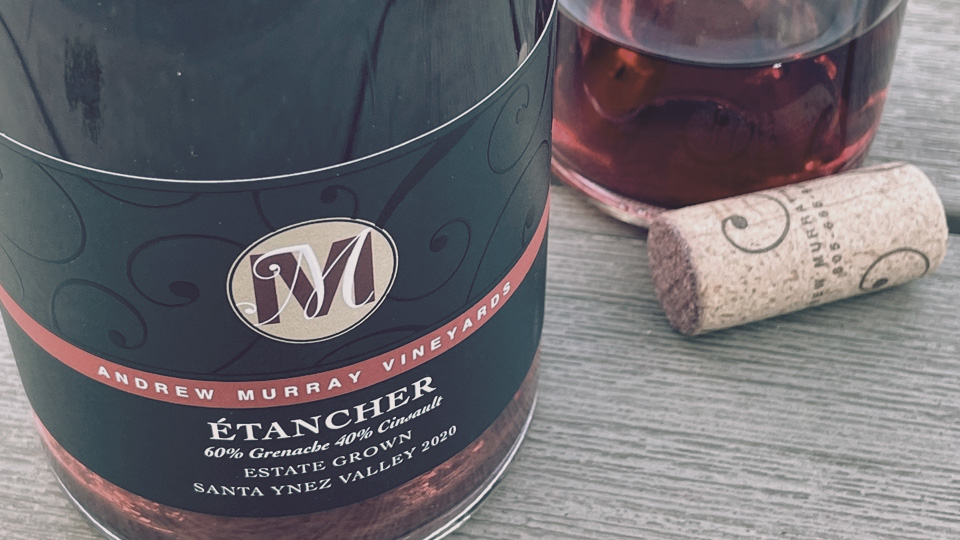 As the wine was taking shape in the cellar, I realized that I needed to come up with yet another wine name – no easy feat given that so many new wines are born and named every year. I knew that I wanted the name to be in French and have an accent Aigu over an É (Like all of our blends – Espérance, Enchanté, Étranger, Espérance Rosé…). I also knew that this new wine was truly delicious and amazingly enough it quenched your thirst like a cold beer. Thus, an exhaustive online search began, resulting in another wine name from our portfolio that is about as hard to pronounce as all of our other blends. Étancher means to Quench in French, though truthfully the use of this word has fallen out of favor in France. But, just like Carbonic winemaking is bringing an old winemaking style back to life, we are happy to bring new life to an older word. This new wine might be hard to pronounce but it is super freaking fun to quaff down!
Deep Dive on Carbonic Winemaking
Carbonic maceration uses whole bunches only and requires a vessel that can be filled with carbon dioxide and closed to prevent the ingress of air. The first stage is an intra-cellular, anaerobic, enzymatic metabolism inside each berry, without the interaction of yeast.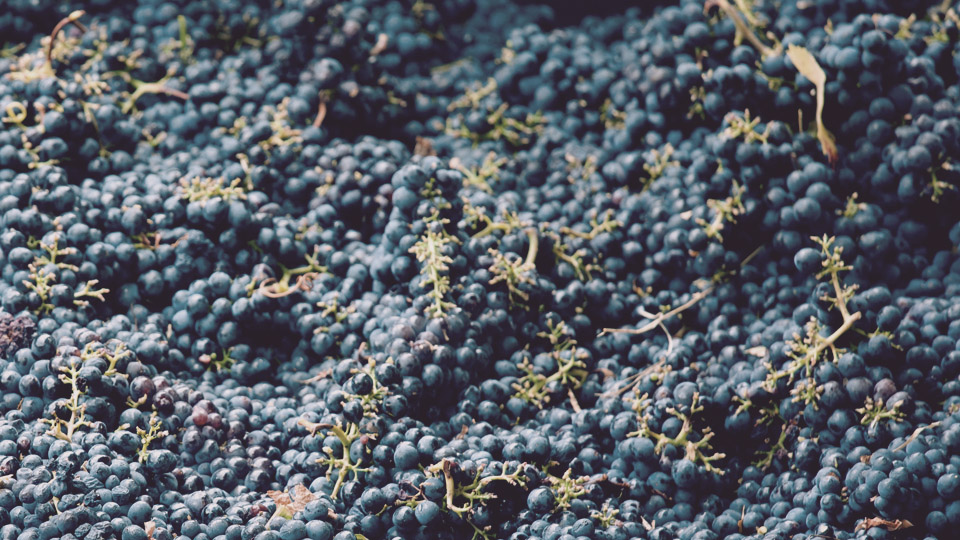 The absence of oxygen causes a shift from respiratory to fermentative metabolism, and this shift is more rapid when carbon dioxide has been used to flush the vessel. It is important to note that there must be enough carbon dioxide to prevent spoilage micro-organisms including acetobacter from growing. True carbonic maceration appears to be quite rare, rather technical, and quite difficult because the weight of bunches inevitably crushes fruit at the bottom releasing some juice, but if the vessel is fully flushed with carbon dioxide, then there is no oxygen to stimulate an alcoholic fermentation.
Inside the berry, enzymes convert the grape sugars to alcohol (rather than yeast). These reactions cause the temperature to rise just like a typical yeast fermentation. A temperature of 35°C will kill the berry after about eight days and this stretches to about two weeks at 15°C.
Studies show that whole, intact grapes under carbon dioxide:
lose 20% of their sugar (this effectively lowers the final potential alcohol)
gain just 2% in alcoholic strength
gain 10 times the amount of glycerol (rich mouthfeel)
lose 50% of malic acid (this de-acidifies the wine, which is why the grapes must be picked with a higher natural acidity)
increase pH by 0.25 units
Along with these changes, flavorful and aromatic compounds are also produced. The loss of malic acid inside the berry is not due to malolactic fermentation –the malic acid is metabolized to other acids including oxaloacetic, pyruvic and succinic acids, as well as to alcohol.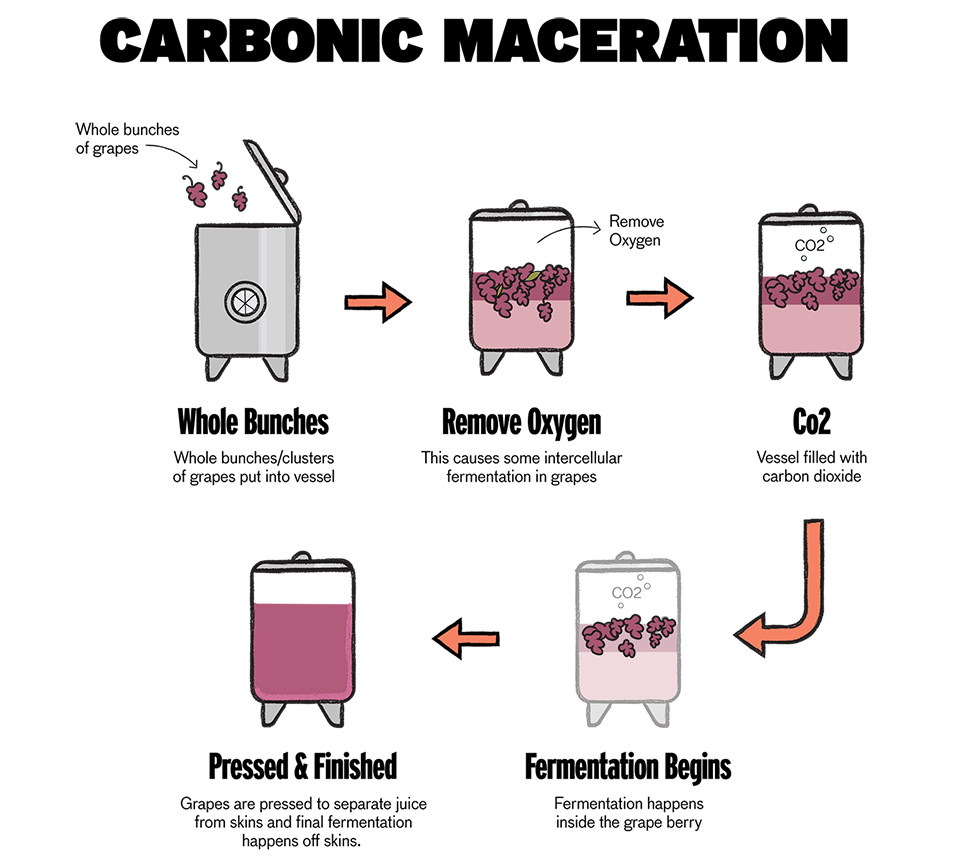 Phase one, the intracellular phase, finishes when alcohol reaches about 2%, causing the death of the berry, or when grapes burst, usually by weight from above. Once this intracellular process is complete, grapes are pressed. Free run wine, produced by alcohol fermentation due to the weight of fruit above may be run off to a separate vat. This first stage maceration (whether from full or semi-carbonic maceration) can last from a few days to a few weeks. As with destemmed-fruit fermentation, time and temperature are important factors.
The second stage, the alcoholic fermentation and malolactic fermentation then take place. It is suggested that the wine be kept a modest temperature of 20°C to preserve the fragrance of the carbonic maceration phase. This phase happens quite quickly after pressing despite the remaining sugar in the must.
It is the fragrance of the carbonic and semi-carbonic maceration flavors that mark out this vinification technique. Oft cited descriptors including hyacinth, vanilla, cherry, banana, raspberry, a fresh, aromatic nose, bubblegum, and cinnamon. There are usually "higher concentrations of ethyl decanoate [fruity], eugenol [clove], methyl and ethyl vanillates [vanilla], ethyl and vinyl guaiacols [smoke], and ethyl and vinyl phenols [spice] develop during carbonic maceration than in traditional vinification." This suggests that wines made in this style often have an aroma and flavor profile that transcend the variety from which they are crafted.
In addition to this spectrum of bright aroma and flavor characters, semi-carbonic maceration wines generally have less color and tannin than wines made using destemmed fruit with punchdown and/or pumpover. Anecdotally, alcohol is often not too high, which is a bonus given current trends.
This is the basic model of semi-carbonic maceration, which naturally favors brightness and perfume of fruit, while minimizing color and tannin. They are often described as crunchy because they taste, and smell of fresh, crunchy berries plucked before full maturity. This perfectly describes our new 2020 Étancher.
Comments
Commenting has been turned off.
STAY CONNECTED
Keep up to date on the latest wine releases, events, and promotions.