February 2, 2021 | Wine Education | Andrew Murray Vineyards
A Bewitching Duo
Delighted. Overjoyed. Smitten. To bewitch, to charm, to attract – to enchant. In English, the word enchant means to influence by charms and incantation, to bewitch, attract, move deeply, or rouse to ecstatic admiration.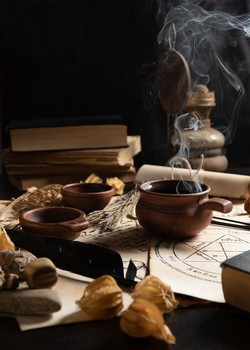 So, where does this charm'ing' word come from? The Oxford English Dictionary provides historical notes indicating that the modern English term enchant is derived from Middle English - the language spoken in England from 1100 to 1500 - meaning, to put under a spell and delude. Originally spelled "incant" in Middle English, it was known otherwise as in an incantation.​
Not surprisingly, the English word enchant has an earlier origin dating back centuries before the Middle English were spelling out incantations. The word is found to come from the French term, enchanter, which in turn originated from the Latin incantare, meaning "in" + cantere, to "sing." The French term enchanter is the infinitive form of the word, meaning to enchant, to delight, to be overjoyed, or to bewitch.
While the similarities in the French and English terms are clear, with quite similar spellings, the pronunciations are a bit different. The word enchanté is pronounced [a(n) sha(n) tay] in French.
Even more currently bewitching - the French greet each other with a "delighted to meet you", or "Enchanté". In the wine world of Andrew Murray - and aptly named in true ying and yang style - our signature white blend of Grenache Blanc and Roussanne signifies this "nice to meet you" meeting of Roussanne and Grenache Blanc. See what we did there?
Bewitching varietals in their own ways - Roussanne is rich and unctuous, while Grenache Blanc is bright and racy - the two complement each other perfectly! Fermented and aged in older French Oak barrels, The Enchanté blend is a dry white wine with a beautifully smooth texture. A perfect wine for a historically incanting and delightful word.
Vintage Highlight: 2017 Enchanté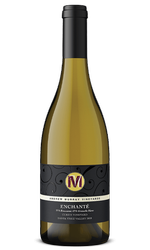 This wine is 55% Roussanne and 45% Grenache Blanc from grapes grown on the Curtis Estate Vineyard, which lies in the geographic heart of the Santa Ynez Valley's Rhône Zone. The 2017 Enchanté is rich and dry, with vibrant minerality and balanced acidity. The predominant aromas and flavors consist of fresh melon, pear, marzipan and honey.
91 points – Jeb Dunnuck
"Brought up in 10% new French Oak, it has a more restrained bouquet of poached pears, spice, orange blossom, and just a hint of toast. With a medium body, a rounded, textured style on the palate, and a great finish, it would give plenty of Southern Rhône whites a run for their money. It's another white that's going to shine on the dinner table."
Speaking of Dinner - Pair the 2017 Enchanté with Half Baked Harvest's Creamy Spinach and Artichoke Salmon and be prepared for a bewitchingly delicious evening!
Comments
Commenting has been turned off.
STAY CONNECTED
Keep up to date on the latest wine releases, events, and promotions.