January 12, 2021 | Andrew Murray Vineyards
From the Bottling Line to Cellar Master
Meet our Cellar Master, Victor Garibay.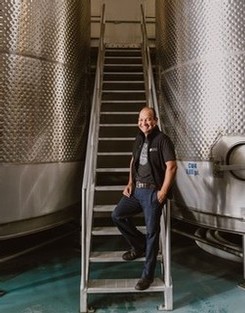 Victor's career in the wine industry began in 1996 with the Firestone Family. His dedication to the craft was not unnoticed and he was swiftly promoted up the ranks - from bottling line to cellar worker, to Cellar Lead and finally Cellar Master. In 2014 Victor joined Andrew Murray Vineyards. We could not have lucked out more! Victor embodies everything that is great about being part of a team. Beginning with his daily wave hello, his kind and helpful spirit makes him a joy to work with. Described by his co-workers as super chill, respectful, responsible, friendly and an all around pleasant person to be around. And boy, does the guy know how to multitask! No one who knows our cellar quite like Victor.
Thank you for all that you bring to the AMV team! Cheers Victor!
More about our fabulous Cellar Master:
If you could drink one bottle of AMV wine, what would it be? Varietal? Vintage?
Either the 2015 or 2016 Watch Hill and Roasted Slope. I love the texture, aroma and complexities of those vintages. So smooth.
What is your favorite meal to eat with AMV Wine?
Steak. Maybe a Sirloin and a fresh salad.
Tell me about your favorite AMV memory.
There isn't just one. I like the cellar work. Working with the people in the cellar every day. That is my favorite.
What do you enjoy most about your job?
I don't just do one thing. Every day brings something different.
If you could do one task in the cellar, what would it be?
Crushing. I would crush every day. Crushing is always different, always something new.
What do you like most about working for AMV?
I like the way Andrew treats us (his workers). He is nice. Explains everything, takes the time to go over the reasons behind the task.
What grape do you most look forward to working with during harvest?
Why?
Because of the fruit. The clusters are not as delicate as a Cabernet Sauvignon or Pinot Noir. They are big and solid and nice to work with.
Recall a funny memory working in the cellar.
Ha – one of our crew fell into a fermentation bin during a punch down. He was soaked in grape must all the way to his waist. When he got out, we gave him a few sprays with the hose and he was wet all day.
What are you most looking forward to in 2021?
To learn more about how to manage the aging of wines. To get a better understanding of analysis and labwork.
Of all the wines currently in barrel, which wine are you most excited to try?
2019 Slide Hill Vineyard Syrah.
Why?
It was a tough vintage with the fires. It wasn't too hot, but not too cold, like it normally is. I'm excited to try a warmer vintage of this wine.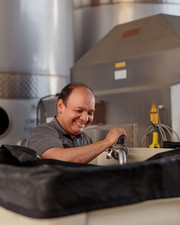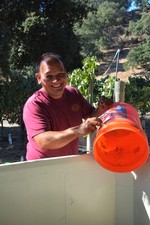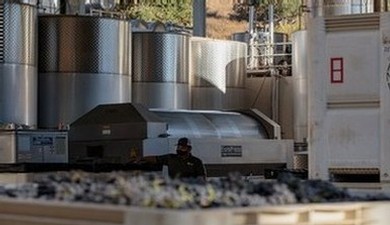 Comments
Commenting has been turned off.
STAY CONNECTED
Keep up to date on the latest wine releases, events, and promotions.